Telescopic Ladder is for home and business use, which can be transformed into extension formation to fit a huge variety of different works. Suitable to use in any place and your work will be easier with this ladder!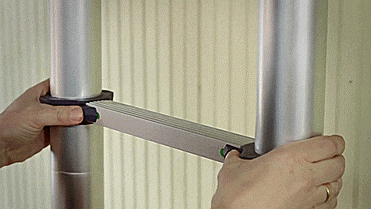 Features:
Safe: Certified to EN131 standard, this ladder is one of the safest telescopic ladders on the market.
Transportable:

 

Full Extension 2 m and  Storage Height 67.5 cm, this ladder easily fits in a car or cupboard – meaning it's always there for when you need it most. Weighing 10.2Kg, it can be carried by one person, making it easy to move between sites or around the home. It can take up to 150 kg in weight.
Storable:

 

With small dimensions, this ladder will easily fit in spare spaces around the home, yet extends enough for the most demanding DIY tasks – from changing lightbulbs to painting walls.
Easy to use:

 

Automatic unlocking means that the ladder collapses itself when not in use, while soft-closing prevents fingers from being trapped during storage
Easy-Assembly: It is easy to reassemble by locks and hinge for extra safety
Perfect for all types of work: Painting, decorating, loft access, cleaning windows, DIY, access roof/balcony, etc.
Package contains:
1x Telescopic Ladder

FREE Delivery
All over India
FREE Returns
Within 7 days
Need Help? +916364712495
Call us on a toll-free phone number
Money Back Guarantee
If you are not 100% satisfied